6.1.18 General Graduation is tonight at 7:30pm out at the football field. JV Softball players please turn in your uniforms asap to Kami. Chips and Powerades are now $.50 in the Black Market Ireland Trucking is currently hiring 4-5 part-time fuel attendants. Stop by...
read more
2.1.18 General:   Winter Ball: South Umpqua is going to Vegas on Feb 3rd.  Come and join the fun. There will be a Go Fish Room, a JAMMIN'  DJ. It is going to be SUPER FUN.  Tickets cost $6. Hope to see you there!   ETS will also be attending a field trip in February...
read more
BR: L to R: Brandon Nelson-junior, Damien Shockey-junior, William Wylie-baseball, Chris Martinez-sophomore, Dustin Payne-track FR: L to R: Shaylee Cashen-spanish, Kristian Johnson-senior, Caitlyn Telford-softball, Katie Sheely-Lancer Way, Samantha...
read more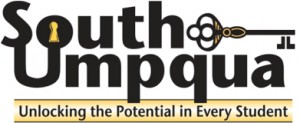 South Umpqua High School strives to provide an environment of educational opportunities to meet the needs of all students. Along with our regular education courses we provide additional support with our Resource Rooms, Life Connections, CTE/Vocational, Online, Early College Courses and our Extended Diploma Program. There is no denial of admission to any SUHS courses and are available to any interested students, grades 9-12, under the District's open enrollment policy.
5.18.18 General There is an assembly this Friday, May 18th during AGG.   Next Week, May 21st thru the 25th is SPIRIT WEEK. Let's make the week amazing… Monday Sports Day, Twin Tuesday, Working Wednesday, Throwback Thursday, Floral Friday.   Booster Club Sports...
read more
The link provided will immunization statistics for Douglas County and South Umpqua High School.