4.19.18 General If anyone is interested in helping Myrtle Creek Elementary at the carnival tomorrow from 5:15-8 PM, please see Mrs. Fye ASASP.   Spring Fest is next Thursday, April 26th from 6-8. Art Club is canceled today. Prom guest passes for the SU Prom are due to...
read more
2.1.18 General:   Winter Ball: South Umpqua is going to Vegas on Feb 3rd.  Come and join the fun. There will be a Go Fish Room, a JAMMIN'  DJ. It is going to be SUPER FUN.  Tickets cost $6. Hope to see you there!   ETS will also be attending a field trip in February...
read more
BR: L to R: Brandon Nelson-junior, Damien Shockey-junior, William Wylie-baseball, Chris Martinez-sophomore, Dustin Payne-track FR: L to R: Shaylee Cashen-spanish, Kristian Johnson-senior, Caitlyn Telford-softball, Katie Sheely-Lancer Way, Samantha...
read more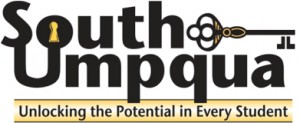 South Umpqua High School strives to provide an environment of educational opportunities to meet the needs of all students. Along with our regular education courses we provide additional support with our Resource Rooms, Life Connections, CTE/Vocational, Online, Early College Courses and our Extended Diploma Program. There is no denial of admission to any SUHS courses and are available to any interested students, grades 9-12, under the District's open enrollment policy.
  4.4.18 General   Girls JV Softball and Boys Varsity Baseball home today @ 4:30   Any FFA member interested in applying for a Chapter Officer position for next year need to see Ms. White for an application! Applications are due this Thursday April 5th.    FFA members...
read more
The link provided will immunization statistics for Douglas County and South Umpqua High School.