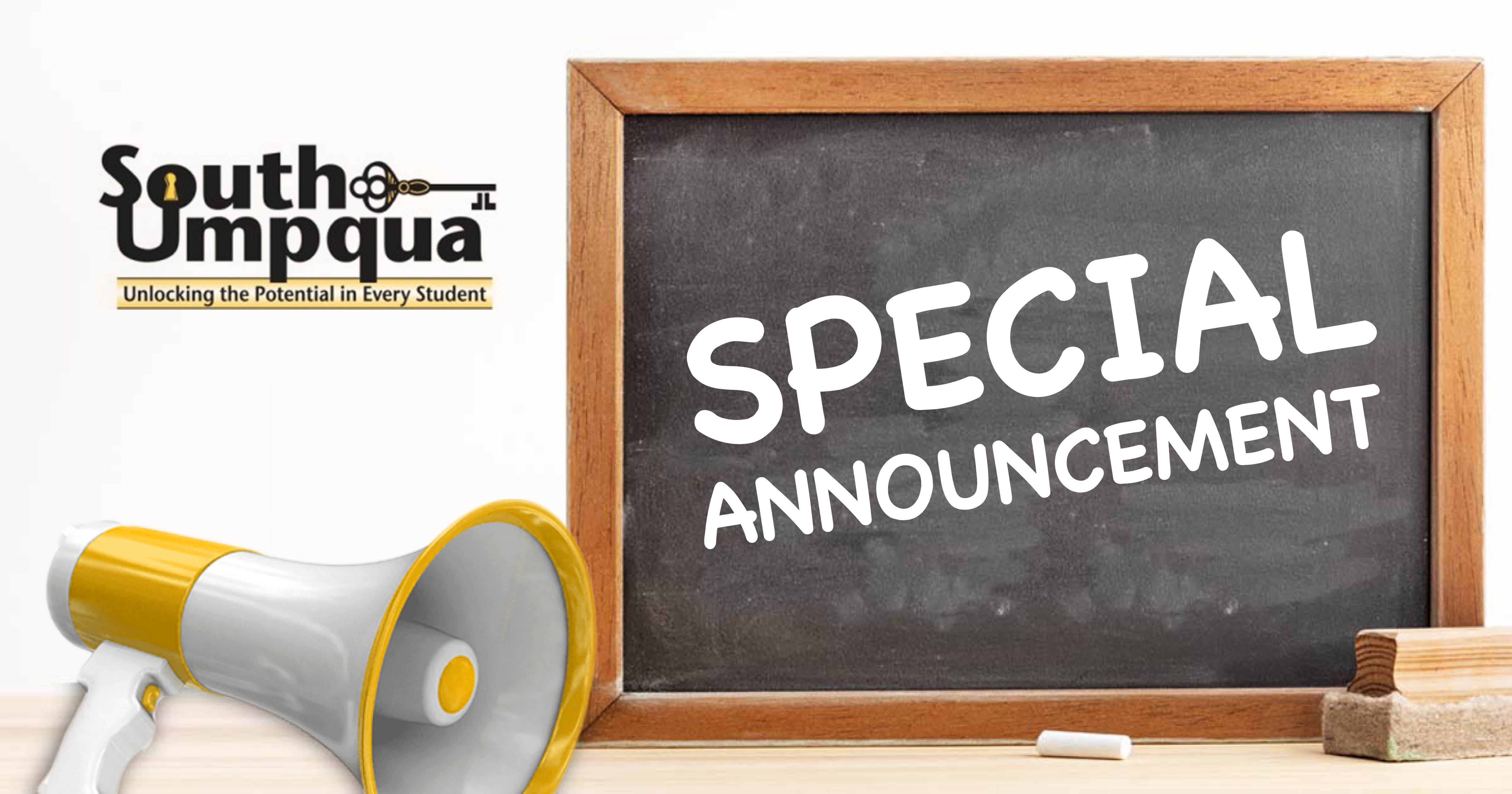 South Umpqua school board names finalists for superintendent
The South Umpqua school board and the screening advisory committee (SAC) consisting of school staff, parents, and community members narrowed the diverse applicant pool to three finalists on March 4. The Board thanks those SAC volunteers for the time they spent in assisting in this comprehensive process. The Board is pleased to announce these finalists for further consideration to be the next superintendent for the South Umpqua school district.
Louis Dix
Currently, Mr. Louis Dix is the superintendent of the Grant School District #3 in John Day, OR. Prior to arriving in John Day, Mr. Dix held a variety of administrative roles including but not limited to assistant principal at the middle and high school levels and elementary school principal in the Klamath Falls City, Medford, La Grande and Sweet Home school districts. He has over 22 years of administrative experience. Mr. Dix received his master's degree in Curriculum and Instruction from Southern Oregon University.
Daniel Endicott
Mr. Daniel Endicott has four years of experience in a variety of administrative roles including Sunnyslope elementary principal (2020 – present), and Glendale elementary/middle school principal (2019-2020). He has over five years of experience as a middle/high school teacher in the Oakland and Sutherlin school districts. Mr. Endicott started his educational career as an instructional assistant in 2012. He received his Master of Arts degree in Curriculum Development & Instructional Technology from the Northwest Christian University.
David Marshall
From 2020 to the present, Mr. David Marshall has been the superintendent of schools for the Brookings- Harbor (OR) school district. Prior to moving to the coast, he was the Assistant Superintendent of Human Resources in the Hermiston school district (2017-2020). For eight years, Mr. Marshall held a variety of administrative roles in the Milton-Freewater school district including assistant superintendent, director of student services and elementary principal (2009-2017). He received his Ed. S. (education specialist) degree from Lewis and Clark College.
The school board will begin reference checks for the finalists over the next several days. Each prospective candidate will be invited for a "Finalist Forum" on Thursday, March 9. At that time, staff, students, and members of the community will have an opportunity to meet the candidates. The "meet and greet" will be held from 5:30 – 7:00 pm at the high school library. Comment cards will be provided for participants to share thoughts with the school board.